Grampa started in early with offers of Cold Duck. The same Cold Duck he had obviously already been enjoying. Even my Dad didn't want any of that swill. Instinctively, I shrunk back, standing behind my Mom.
Although Mom and Dad assured Grampa no one wanted any Cold Duck, he would check in with us on this point every few minutes anyway with a barrage of "Want some Cold Duck? You sure? Cold Duck?"
While nudging each other and repeatedly asking, "want some Cold Duck" would eventually become a running joke in our family, at that moment we were trapped in a loop of Cold Duck offers. Would we ever be able to leave without drinking Cold Duck? 

Perhaps he was so drunk, he thought he was funny. Or perhaps he was so drunk he kept forgetting he had already checked on our desire for some Cold Duck. Or perhaps he was so drunk, he didn't realize how inappropriate it was to offer his grandchildren Cold Duck.
The only thing I knew for sure…he was so drunk.
Luckily, he snapped out of his Cold Duck obsession long enough to remember he had ice cream.
"Do you want some Metropolitan ice cream?"
I shot a look at my Mom. Did I? We were all wary. What the heck was Metropolitan ice cream?
"What's Metropolitan, Grampa?"
"You know, chocolate, vanilla, and strawberry…Metropolitan."
"Oh, you mean Neapolitan?"
"No, it's called Metropolitan."
We went back and forth on this until Grampa was good and pissed. He insisted he was right and said, "I'll show you."
We dutifully followed him to the kitchen, dreading the moment when he realized his error.
But instead, we watched in disbelief as he held up the carton of ice cream and said, "see, it's Metropolitan" while simultaneously pointing to the word "Neapolitan."

Grampa did not need any more Cold Duck.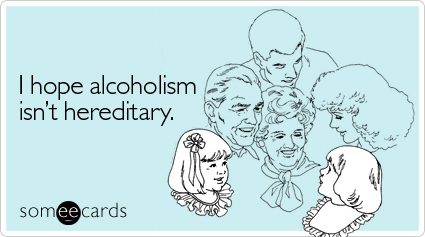 This post was inspired by the Write on Edge RemembeRED writing prompt to write a memoir piece in which wine, coffee, or chocolate features prominently.
My Dad's parents were a real treat…but making fun of Grampa was usually good for a laugh. Neapolitan isn't very common anymore, but whenever I see it, I still call it "metropolitan." And I still don't want any Cold Duck, thanks for asking.