Cupcake Maker, Thy Name is Oven
The future of the corner bakery is at risk. The cupcake craze, in particular, has peaked. Baking at home will never be the same.
You may be curious how I know these things. Well, Sunday I saw this George Foreman cupcake grill at Wegmans and then I knew.
This is a game changer, people. Cupcake-making technology is now available to the home baker!
As you may know, I really enjoy a good cupcake. But who can be bothered to make cupcakes at home? I don't know about you, but I don't have that kind of time.
But now, we have a machine that easily molds batter into cupcake shape. Come on, we've all been there…you prepare your cupcake batter and painstakingly hand-mold it into a cupcake shape only to have the batter ooze all over your counter when you let go to form the next one. There had to be a better way!
I also never understood how the professionals got that baked consistency. No matter how long I let my cupcake batter sit, the cupcakes never had the freshly baked quality I love so much in a cupcake. Obviously the professionals knew something I didn't.
Enter the innovative manufacturing company, Select Brands Inc.
They produce small appliances that allow us to "bring the corner bakery into our own kitchen." Good news for us, bad news for the corner bakery.
I know what you're thinking. "OK, so the cupcake maker solves my cupcake making needs. But what if I need to make 4 tiny pies?"
Oh yeah, baby.
Surely they can't have figured out the pie pop?
Think again! Also, pie pop? Huh?  
While Select Brands is working hard to solve all of the most difficult challenges faced by home bakers (one self-contained, kitchen-cluttering baked-good maker at a time), they are being left behind in one area. Are you interested in making eight, and only eight, pre-cut brownies, in a machine that does nothing else? Well, Select Brands can't help you.
But Bella Cucina offers this problem-solving innovation…because pouring brownie batter in a 9×13 pan and then having to cut them into squares ourselves is beyond most of us.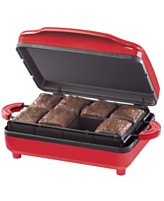 I love the one Amazon review of this product so, so much. Kelli provides a thorough review of this little uni-tasking machine and concludes, "After trying this device, I could just as easily have turned on the oven & baked a full batch in a pan faster. Frosted them when cool & cut them."
Whoa! What is this oven thing of which she writes?
Kelli also laments the difficulty of cleaning her brownie maker. Pshaw! As a happy customer rhapsodized in a review of the revolutionary whoopie pie maker, "Are you kidding? For the price this is fabulous." At these prices ($29.99, but currently on sale at Amazon for $19.99!), why clean them? They're practically disposable, just buy a new one for each batch!
——————————————-
This post was inspired by this week's Studio 30 Plus prompt:
"And then I knew…"
I made two batter, everything but the kitchen sink brownies (I threw Twix bars in them!) over the weekend for National Family Pajama Night. Recipe, photos, and review coming soon. If only I'd had the brownie maker (then I could have wasted over half of the batter! A picture of me, Dave, and (poor tortured) Chuck in our PJs will be this week's Photo Friday.