The other day I took a little break from work to check on the Twitter. Cordelia Calls It Quits linked to an interesting-sounding post from Zen Habits, so I clicked the link.
The post was indeed interesting. It suggested doing something only once and doing it immediately when it first grabs your attention. This resonated with me like you wouldn't believe. I definitely have issues with this. I'll open an email and not feel like dealing with it right then, so I'll just close it and move on. But eventually I have to deal with it and I have to read it again to do so. Waste of time.
Or the time I did hours of internet research on places to go in Belgium in my initial excitement of deciding to go there for our 10th anniversary. I told myself I was just brainstorming. I didn't bookmark stuff or make any real notes. Then a week before our departure, I had to scramble to do all that research again. So dumb.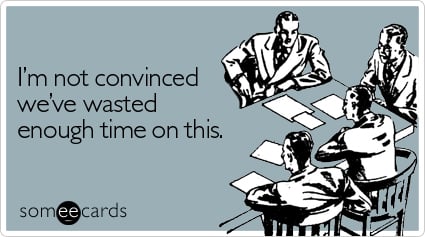 About halfway through reading the Zen Habits post, I started feeling guilty about checking Twitter when I should be working. Without irony, I made a mental note to finish reading that post later…you know, the post about dealing with things only once.
It would be funny if it weren't so pitiful.
How about you? Do you put things off that you could do right then or do you take care of them right away as they come up? How do you balance your own to do list with the things other people bring to you throughout the day?